So here we go!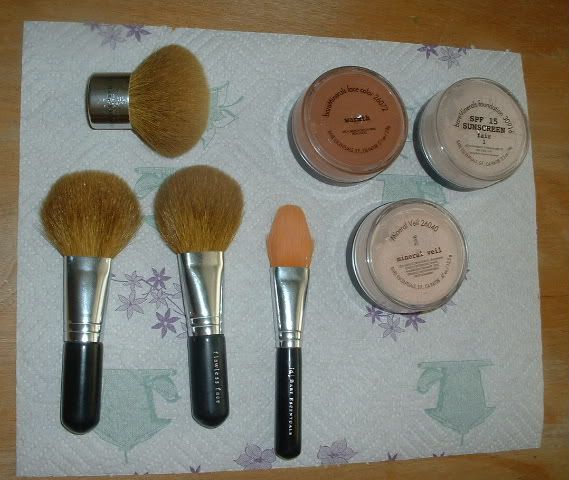 These are the tools I will be doing the basic demonstration with. I will be using my foundation shade, which is the #1 Fair. Sadly, this is too dark for me and in order to make it lighter I add the eyeshadow shade Chenille to it to make my own personal formulation, .5 porcelain. Yes, one and a half to two whole eyeshadows to my whole jar of foundation. I am so damn white. I will also be using the warmth all over face color and the mineral veil setting powder. My brushes are the full coverage kabuki, two flawless finish brushes and the maximum coverage large concealer brush. I have two flawless brushes, thats why I use two. When I didn't have two, one worked just fine. Now I have a seperate one for warmth and mineral veil, which is nice. If you have only one, make sure you remove all traces of warmth from the brush before you apply mineral veil, or you may end up kinda orangey all over.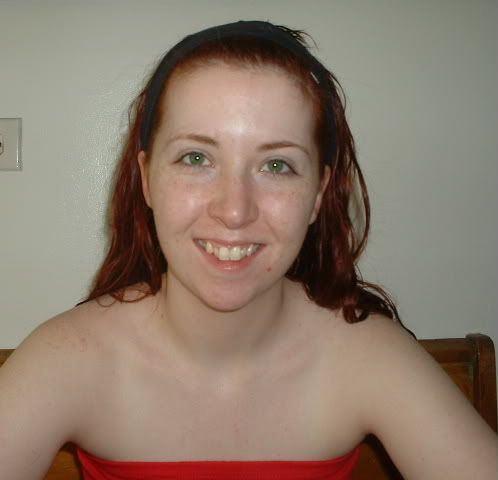 Oh, and thats the lovely me. Those tan lines on my chest are like 3 years old...sad.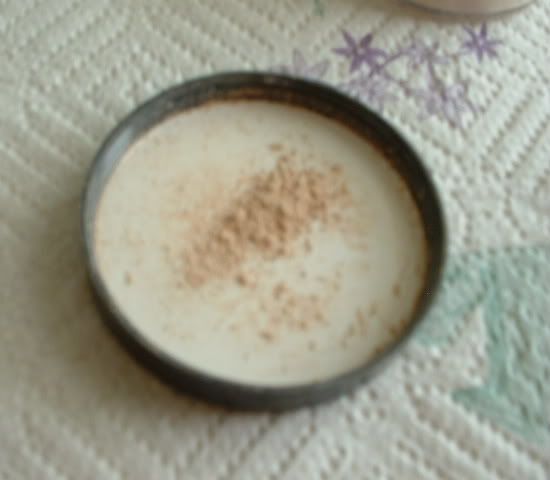 This is all the foundation I need to cover one whole side of my face and my whole forehead. The less you use and more you buff, the better it looks.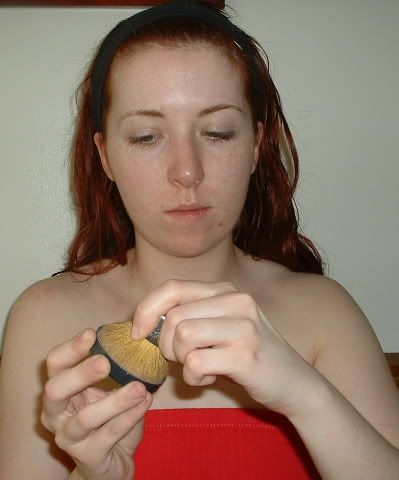 Swirl the foundation in the lid with the full coverage kabuki brush. Use alot of pressure and change directions frequently to load it evenly over the surface of the brush.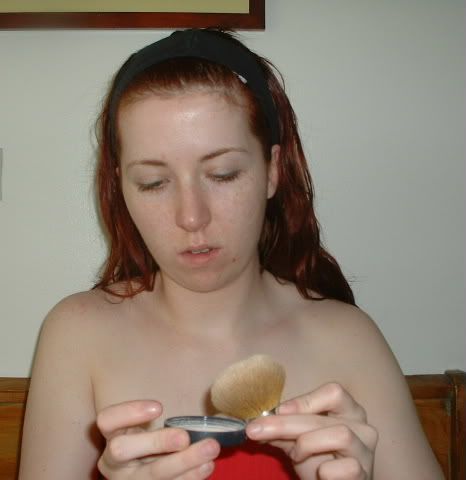 Tap off the excess, otherwise it will just become airborne and will be wasted. When you tap off the excess into the lid, you can go back and use that excess as you do the rest of your face. No wasting!!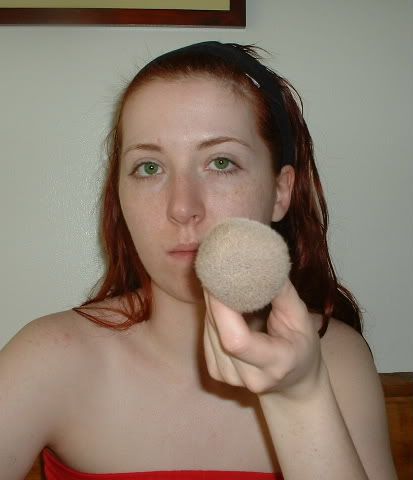 This is how the surface of the kabuki should look-an even dusting!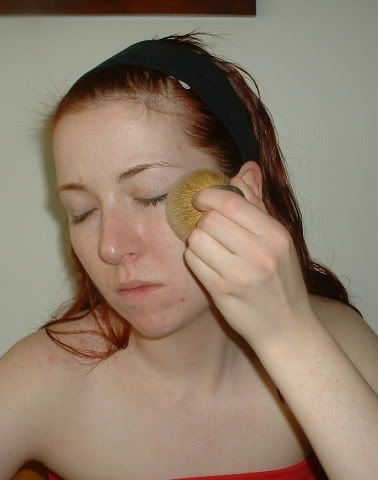 Now, using firm pressure and circular motion, apply the foundation all over one side of your face and your entire forehead. You can go around the eyes and everything, even with contacts in-I do it every day! Use a firm pressure, its almost like grinding, but buffing sounds nicer.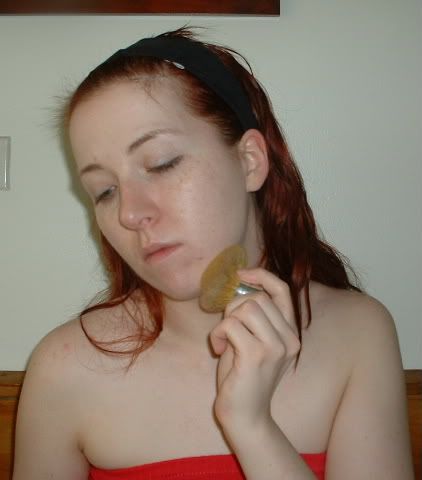 Go under the chin to avoid any lines of demarcation. Hell, if you want to you can apply this all the way down your neck and across your chest. I do it for special occassions. As long as its set with mineral veil, it won't budge.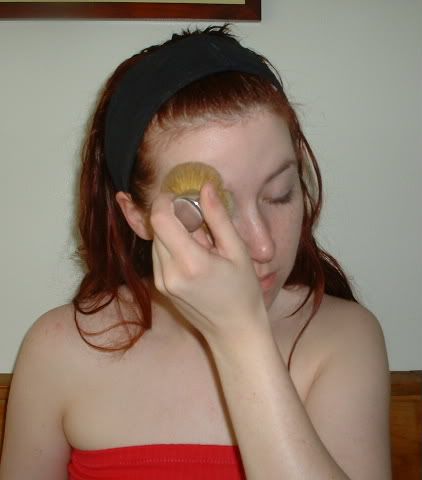 Go across the entire forehead. I work on a half of the face at a time to allow myself a direct source of comparison. When I see one side of my face bare, it helps me know when I have achieved the coverage I want. Then I make the other half match.




I get more foundation for the other side of my face- note that its slightly less than the other side, since I did the forehead already.




Swirling, tapping and buffing begins again.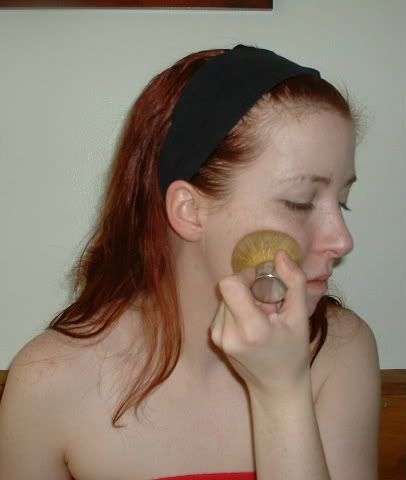 Buff, Buff, Buff...remember, your not buffing it off, your buffing it in!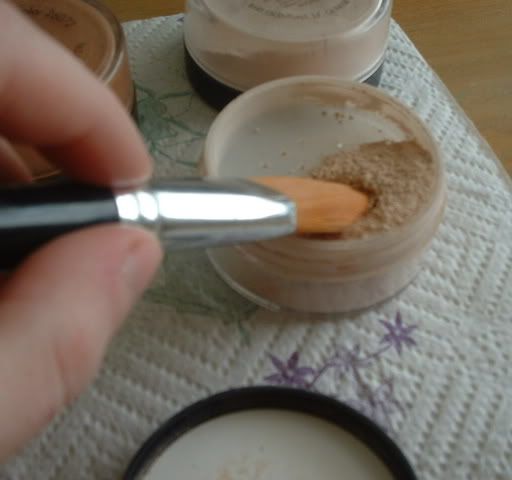 Now I grab the concealer brush and get some foundation on it.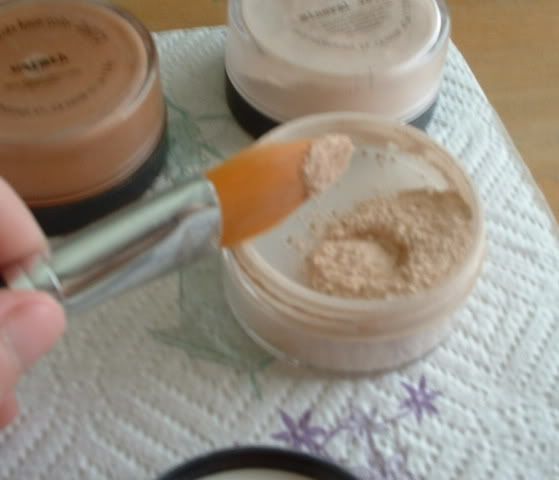 This brush really grabs alot, almost like a sponge because its a synthetic bristle.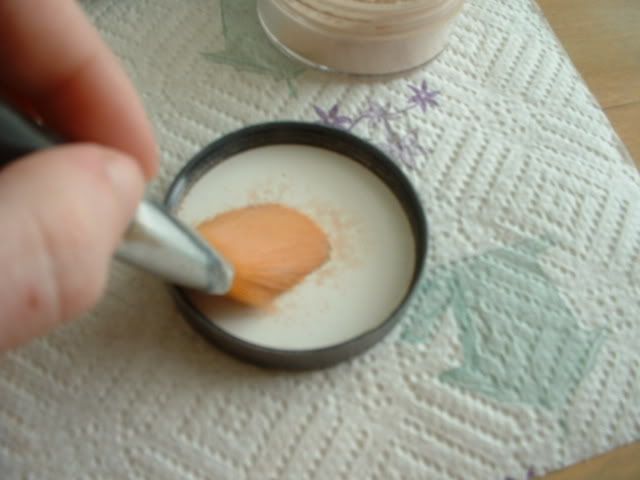 Put it into the lid and work it into the bristles.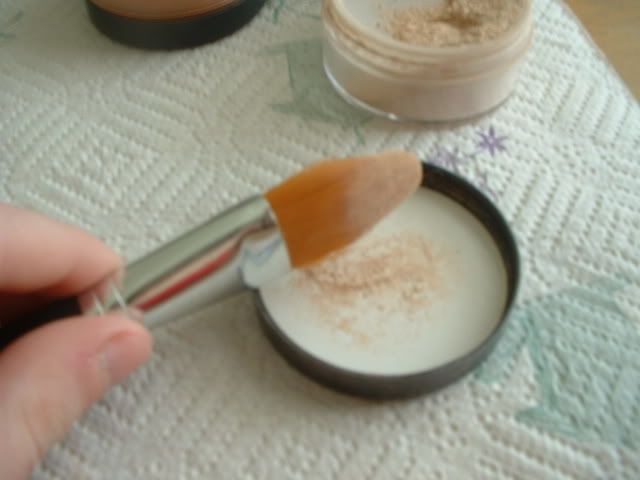 Tap off the excess...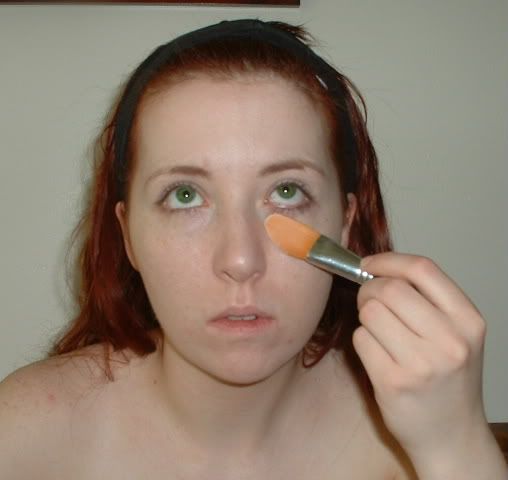 Apply the foundation as a concealer wherever you need coverage that the kabuki didn't give. Usually its around the eyes, over blemishes, around the creases of the nose, etc.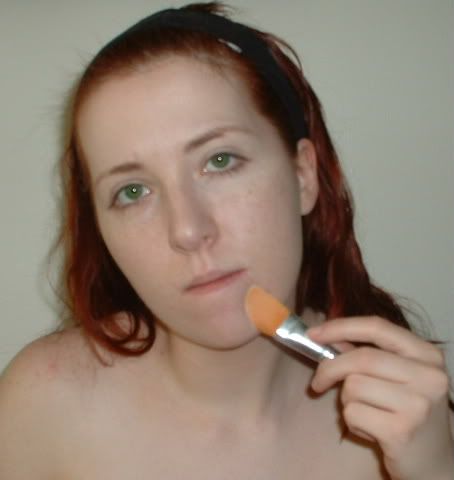 Me? I needed more on my chin since I got a nice little breakout just intime for this....kinda like the lady from the infomercial!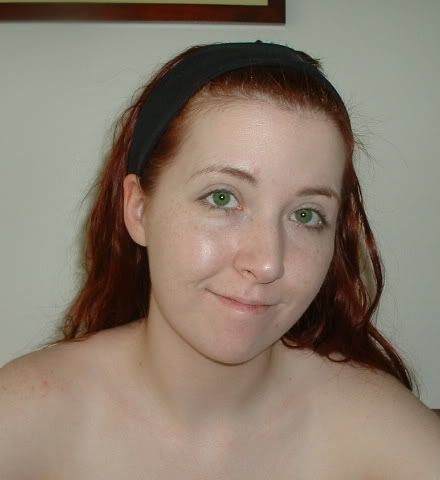 So now I've applied the foundation. Notice that I am all one color- this foundation gives such a great coverage that you may feel washed out. This is where Warmth comes into play.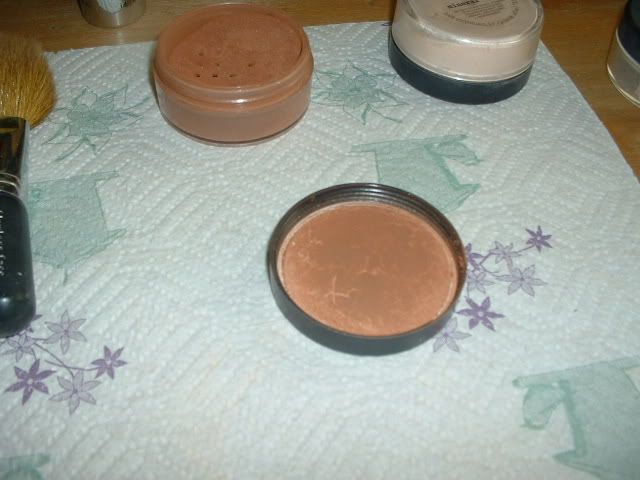 Now, being a #1-or, ahem, .5 foundation, I can only apply a trace amount of warmth. Fairly light foundation wearers may have the same trouble, not as severly though. When you get into #2 and 2.3 foundation shades and beyond, you can get away with so much more warmth. To get the tiny bit I need, I turn my jar upside down and then right side up and open it. Whatever trace amount sticks, thats all I use.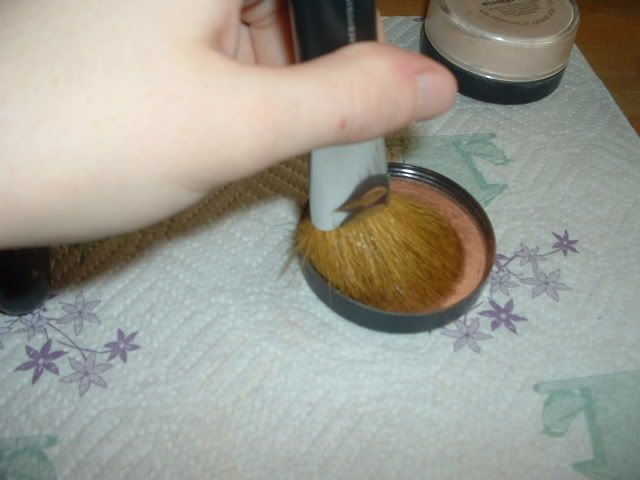 I use one of my flawless finish brushes and swirl it into the cap to load the trace amount onto my brush. Other deeper skintones, you can dip into your warmth then swirl it in the cap to load it.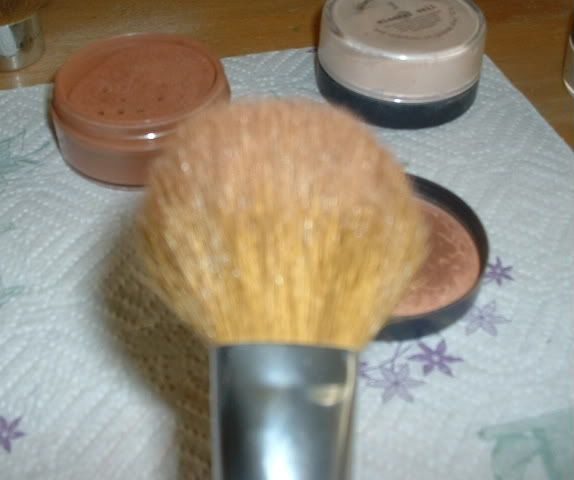 Make sure you work the warmth into your brush, so that its even across the surface. The bristles should be evenly colored with warmth. Mine are just barely tinted with it.




Tap off the excess...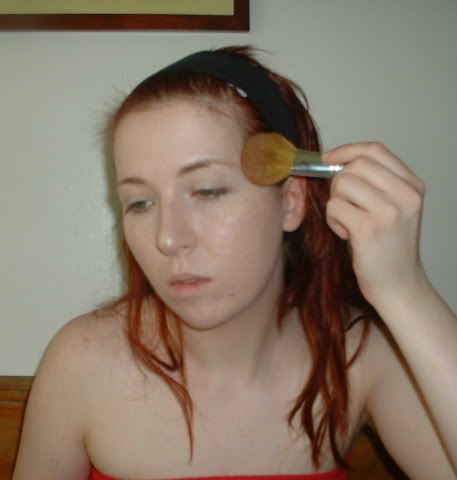 There are alot of ways to apply warmth. This is just one. I call it the "c". Start at the temple, practically in your hairline.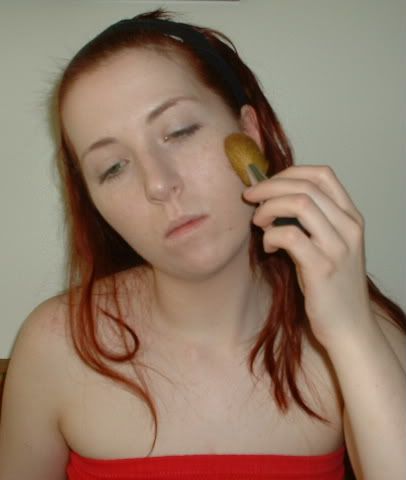 Down the cheekbone...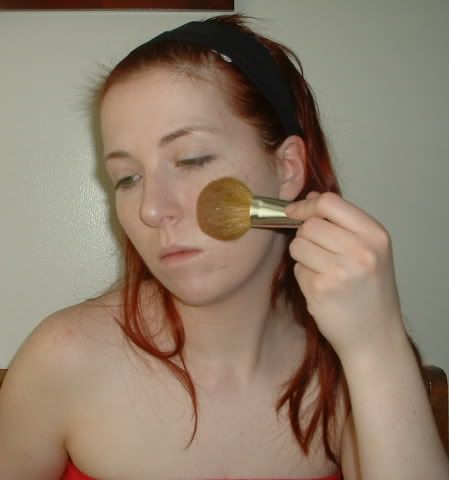 Go over the apple of the cheek...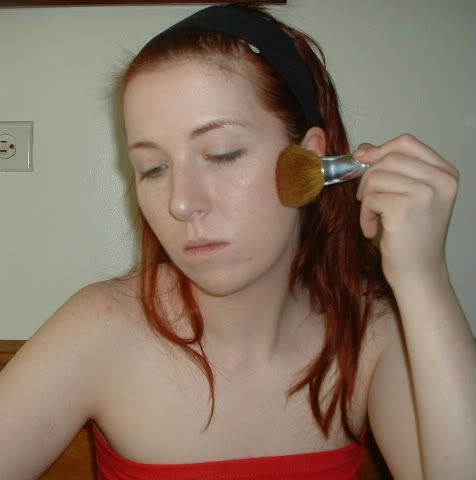 Then go back up to the temple. It makes a letter "c". If this "c" is really obvious, you may be using too much warmth. But in the meantime, run over the area with the Kabuki Brush to blend out the edges,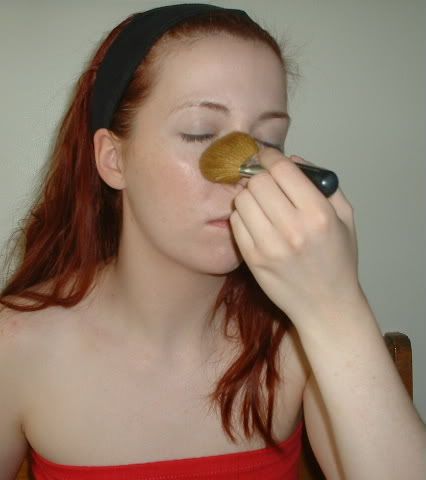 For nice, sunny looks you can go over the bridge of the nose...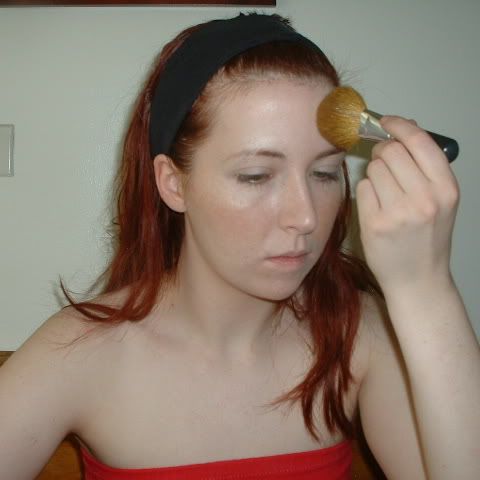 And on the forehead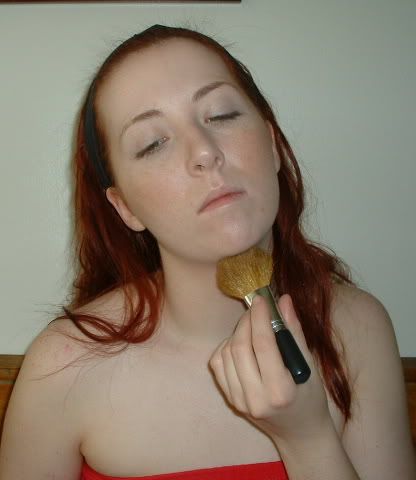 And for contouring if you have a little...umm...problem with your jaw not looking so defined, go under the jawline and chin to create a shadow. Its not so noticeable in person, but in photos it makes double chins vanish!

Now its time for my favorite, since I'm oily- Mineral Veil!!! But don't be mistaken-all skintypes should be using this. It makes the makeup transfer resistant, gives it a soft focus look, absorbs oil and shine since its made of cornstarch, and it also softens the look for warmth so that its a bit more natural.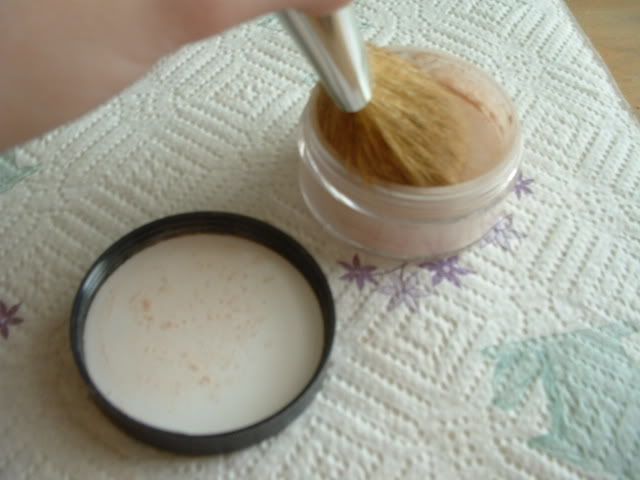 I dip my second flawless finish brush into the veil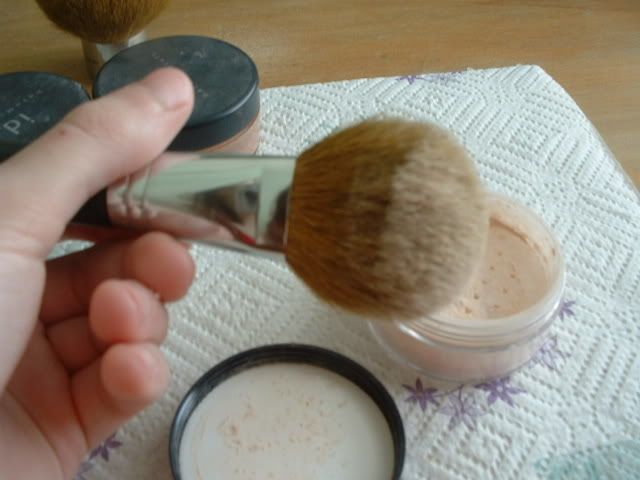 I like alot of veil....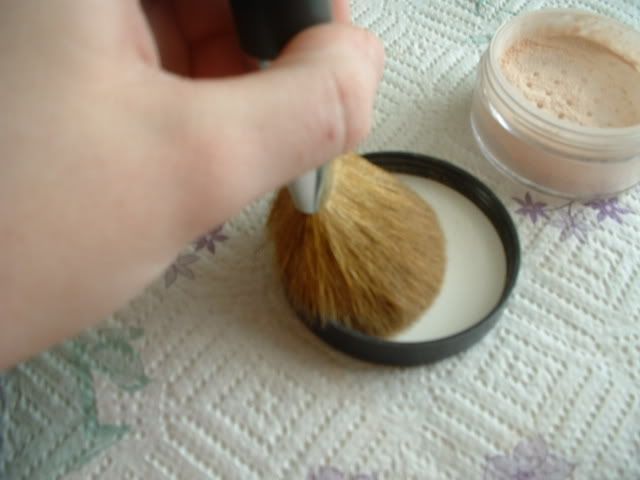 Swirl it in the lid to load....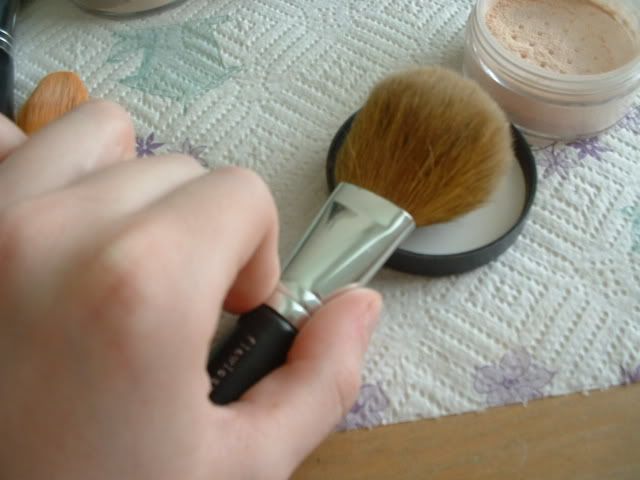 Tap off excess...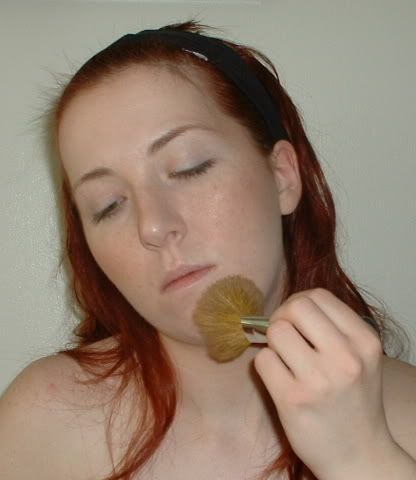 Dust it all over the face, neck, etc..wherever you applied foundation. Go over the eyelids too. Go back for more if you need it. This is the product you touch up with if you get shiney, feel dull, get sticky from heat and humidity, sweat, etc.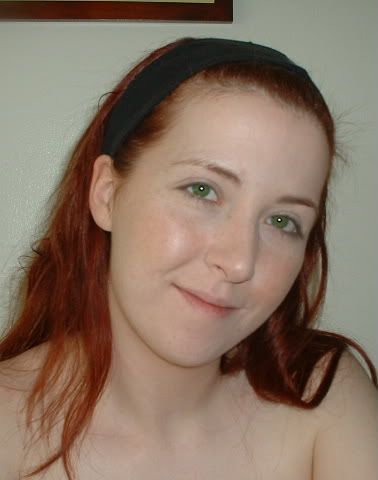 There you go. Thats the basics. But I never stop there....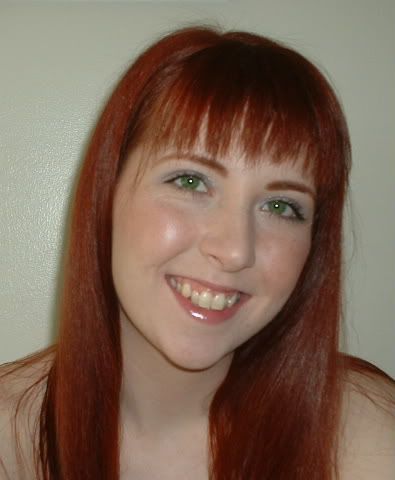 This is my finished bare minerals look. I used:
*a mixture of auburn and redhead brow powders in my eyebrows
*Escape Blush
*Sheer Violet Lipgloss
*black mascara
*Wonder glimmer-its new, in the blendable eye watercolor kit
*Ice Queen Eye Quickie over the top of it


Okay, whew..that took alot. Lemme know what you wanna see next.